Ride from the Historic Ross Goldfields to the beautiful beachside town of Hokitika. Day one is an easy laidback cycle suitable for all ages. Make sure you look behind you to the stunning Aoraki/Mount Cook and Mount Tasman, New Zealand's highest Mountains..
BEGINS IN: Ross
ENDS IN: Hokitika (Hub of the Cycle Trail)
DISTANCE: 33 km
GRADE: Easy Grade 1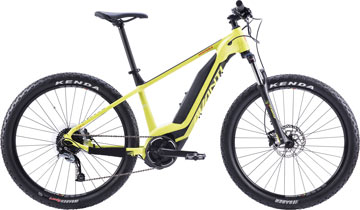 Electric Bikes Available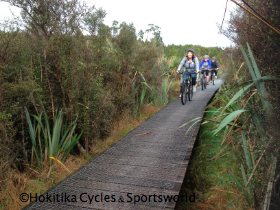 After exploring the gold rich town of Ross, this section offers great views of the tidal Totara lagoon. Ride along the historic rail link and traverse some beautiful old rail bridges including the Totara Bridge, built in 1908. Follow the trail east at Ruatapu and ride along a local rural road to the unique West Coast Treetop walkway. Turn onto the Mahinapua Tramline to ride through native forest and get glimpses of Lake Mahinapua, or walk out to a picnic spot. The trail sends you past old mill sites, and through wetlands to join the State Highway for 3kms. The final leg of the journey rides you parallel to Mahinapua Creek, renowned for its whitebait spawning and past the Hokitika Golf course as you come to a panoramic view of the Hokitika River while crossing the bridge.
West Coast Wilderness Trail Bike Hire See Your Options & Prices