Here at Hokitika Cycles and Sports we have a lot to offer to help you make your stay in Hokitika enjoyable so you leave with long lasting memories.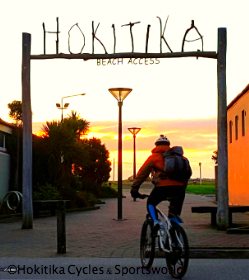 Hokitika is a cool little town. Set on the beachfront where you can sit, eat, relax and then take a stroll through the shopping centre, chat to the locals and take home a reminder of our beautiful beachside town. See Aoraki/Mt Cook on a clear day too!
Head out to the unbelievable turquiose waters of the Hokitika Gorge. With its pristine river and great fishing, its a good idea to take your lunch, once you're out there you won't want to leave.
After dinner why not watch a movie in one of the local theatres then when its nice and dark grab your torch and head to the Glow Worm dell at the North Entrance to town.

WESTLAND WILDERNESS TRAIL
Hokitika is the Hub of the West Coast Wilderness Trail, Situated right in the middle and makes entry and exit points, accommodation and Entertainment easily accessible.
Book your bike hire and spend a day or 4 exploring the beauty of the heart of Westland. Trails are suitable for all ages and abilities.
MOUNTAIN BIKE SINGLE TRACKS
There are many Mountain Bike Tracks for the more adventurous. Various Graded Tracks are available throughout the district. Local knowledge is a bonus and respect for our pristine forests is a must. We have the Westland Mountain Bike Club memberships and the Blue Spur trail maps available instore.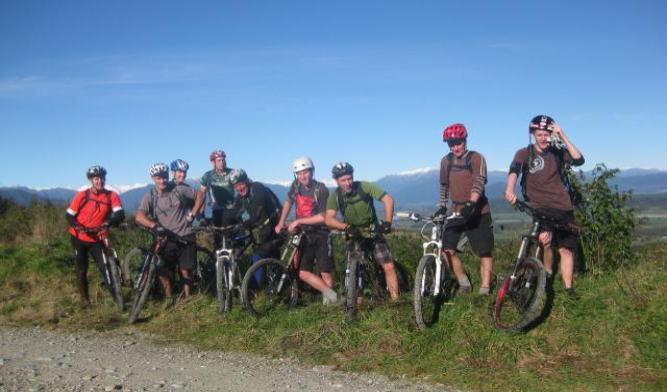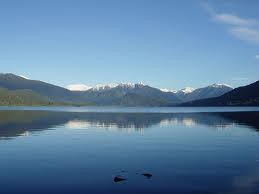 LAKE KANIERE
Lake Kaniere is a popular spot for water sports, camping, fishing, walking tracks and a day out picnicking while the kids go for a swim. Located 19kms East of Hokitika it is a lovely ride on a bike. Make it a day trip and do a couple of walks on your way. Mount Tahua isn't for the faint hearted but very worth the climb (1125m). For overnight accomodation, try the Hokitika Angling Club Bach. Its recently been upgraded and sleeps up to 8 people.
Click here to make a booking.
LAKE MAHINAPUA
Lake Mahinapua is located 10 Mins South of Hokitika. Take an Easy Bike ride or drive along the scenic State Highway to the Lake. There's a Picnic Area, DOC Camping ground, recreational Boating, Fishing and 4 walking tracks. Paddle Boat Cruises run daily,paddling down Mahinapua Creek to the lake and return, White Herons are frequent visitors and in the summer the Creek is laden with Lilly Flowers.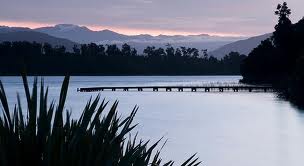 Heading South
ROSS
Once your visit to Hokitika has come to an end we suggest heading South towards the Glaciers. Pan for Gold at the Ross Goldfields Information and Heritage Centre and spend some time walking the local tracks and enjoying the laid back atmosphere of the locals. The West Coast Wilderness Trail will eventually be ending in Ross.
HARI HARI
Head South to Hari Hari, Lake Ianthe is a favourite fishing spot. Stop at the Hari Hari Motor Inn for lunch, I hear they have a great Family Restaurant and Menu. While your there pop over the road and walk the Wilberg Track. Better still stay the night and walk the track in the dark to see all the Glow Worms.
http://www.hariharimotorinn.com/index.html
WHATAROA
Whataroa is the next town, In Season the White Heron Sanctuary Tour is not to be missed. A unique experience to New Zealand's only Kotuku (White Heron) nesting site, in the Waitangi Roto Nature reserve, the Kotuku Ngutu Papa (Royal Spoonbill) also nests here.
http://www.visit-newzealand.co.nz/westcoast/whataroa.html
FRANZ JOSEF
20 minutes past Whataroa is Franz Josef, A vibrant town right next to the Franz Josef Glacier. We recommend taking a Helicopter ride and seeing it from above… magnificent.
The Rain Forest Retreat Hot pools and the West Coast Wildlife Centre are no to be missed. 
http://www.glaciercountry.co.nz/
FOX GLACIER
Then onto Fox Glacier, Take a guided walk onto the ice. Walk around Lake Matheson,Its one of New Zealand's most scenic attractions. Have you ever tried Sky Diving? Well this is the place to do it.